---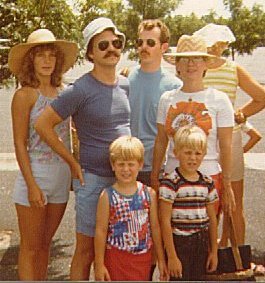 Disney World - 1977
---
his picture was taken after we arrived at Disney World.
Big people from left to right are:
sister Sundaye, Big Buffalo, brother Harold, and Big Buffalo's wife - Penny.
The two little fellows in front are Danny and Timothy - the sons of brother Harold.
Uncle Gary was the photographer.
When I showed my wife Penny this picture, all she had to say was,"look how skinny you were then".

Top of this page or Back to previous link or Back to main menu